2008 Fantasty Baseball Sleepers and Busts
The key to winning your fantasy baseball league is being able to find a few great sleepers and avoid blowing big money on a bust. If you spend $3 on a player, and he does not pan out, he is not really a bust. But spend $27 on Rich Harden last year, like someone I know did, and you will have a tough time making it up. If you remember, Harden had a great spring last year and was piling up the K's, then 2 weeks into the season, He did what he always does - Got hurt. It only goes to show that the risk is not worth the reward in cases like this. While no pitcher is guaranteed to stay healthy, ones with injury histories are best left to someone else. Some teams probably won their fantasy leagues on the back of Carol Pena last year. You would be hard pressed to find a league where he went for more than $1 or if he was even drafted at all. 46 home runs is a lot of bang for $1. With that being said, let's take a look at our 2008 fantasy baseball sleepers and busts.
2008 Fantasty Baseball Sleepers - American League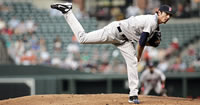 Matt Garza - SP - Tampa Bay Rays
At just 24 years old, this former first round pick of the Twins in 2005 seems to have been lost in the trade to the Rays, where he will serve as the #3 starter behind Scott Kazmir and James Shields. Giving the Rays an outstanding set of top 3 starters. Once considered one of the top pitching prospects in the game, the trade to the Rays has many people forgetting about his potential. Remember, they traded Delmon Young for him, who is considered an one of the top young players in the game. The Twins were never all that happy with the way Garza relied on his fastball. He has worked on his off-spead pitches as well as his curveball, which once he gets his confidence in these pitches, could make him a dominate starter. During his minor league career, Garza averaged over a strikeout an inning and showed outstanding control. He has the stuff to be a #1 or at worst a very good #2 at the major league level. Last year, after failing to win a rotation spot in spring training, he ended up throwing 83 innings for the Twins with a 3.69 ERA with 67k's in 83 innings. His whip was a little high at 1.542, but his minor league whip was usually below 1.00, and with improved confidence he should be able to cut down on the walks. He finds himself in a great situation in Tampa, where he can settle in as the #3 starter, without fear of losing his spot in the rotation. The one area of concern is the Rays bullpen which has been horrific the past few years. But with the addition of Troy Percival and Dan Wheeler to go along with Al Reyes, who did a great job last year, the bullpen seems to be in much better shape. It would not be a suprise at all to see Garza put up better numbers than teammate James Shields, who is projected to go much higher. Get Garza on the cheap this year, as we project him to be one of the better starters in the AL this season.


Chris Denofria- OF - Oakland Athletics
Put him in the category of deep sleeper. While he is not exactly tearing it up this spring, he is still the favorite to be the A's opening day center fielder. He missed all of last season following Tommy John surgery. The A's traded for him after the surgery, figuring that a healthy Denorfia would be a big part of the Athletics rebuilding process. He was considered to be a very good prospect before the injury, and was nearly a .300 career hitter in the minors with good power and the abiliity to steal some bases. With so much time off, a slow start is to be expected, but once he gets it going, he could go on to have a nice fantasy season.

See the player updates page for more sleepers and busts.
2008 Fantasty Baseball Busts - American League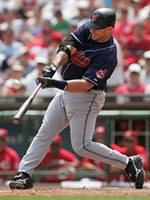 Travis Hafner - DH - Cleveland Indians
Was 2007 just a bad season?, or was it the first signs of a career in decline? Seems everyone wants to give Pronk a pass for last year. Nagging injury, contract dispute, just a bad year. Well lets take a look at some things. Last year a lot was made about his contract dispute possibly being the cause of his poor play. But after he signed his new deal over the allstar break, he was virtually the same player he was in the first half of the season. Then we had the .266 batting average from a guy who regularly hits over .300. Which is a huge drop-off for someone who is normally a much better hitter. Then you had the drop in Homeruns from 42 to 24. One key thing to notice is that he hit 42 Homeruns in 454 at bats while hitting only 24 in 545 at bats last year. Going at his 06 rate he would have hit 51 Homeruns in the same 545 at bats, making the drop even more alarming. While nobody can say for sure if last year was just a bad year, anyone who watched a lot of Travis last year, saw a player who was really struggling. I remebber watching a game against the Angels early last season, where Ervin Santana just make Hafner look silly with breaking pitches down and in. He could not layoff the pitch. Seems other teams took notice of that and pitched him differently than they did in the past. While he will still hit 20+ homeruns and drive in a lot of runs in that potent Indian lineup. Those expecting a return to his form of 2006 and before are going to be disappointed.




Eric Bedard- SP - Seattle Mariners
First, lets put bust in context. We are not saying he will be a total disaster. But he may be someone who will have a hard time playing up to the dollar value and or draft postion spent on him. Bedard has had a history of arm issues from time to time, so he comes with more injury risks than you would think. Also you have to look at the huge jump he made last year, and wonder if that is sustainable. He took nearly a full run off his ERA and showed dramatic improvement in whip and K's as well. It sort of sticks out from his other seasons and looks like a bit of a fluke. While he may go on the have a great year, he may revert back to numbers more inline with his prior seaons, which would make him good, not great. Not to mention the fact that he got paid this offseason, so motivation could be a factor as well.
See the player updates page for more sleepers and busts.
2008 Fantasty Baseball Sleepers - National League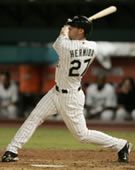 Jeremy Hermida - OF - Florida Marlins
While Hermida's career has been slow to start due to numerous injuries, It is hard to ignore the upside the sweet swinging 24 year old lefty has. After gettng off to a slow start in 07, he went on to hit .340/.401/.555 with 10 HR's in 256 at-bats after the All-Star break. At just 24 years old, Hermida is primed to have a monster season. He will be hitting in the three hole, where he seemed to settle in nicely last year. He will have Hanley Ramirez and probably Dan Uggla hitting in front of him, so he will get plenty of RBI opportunities. The only question is whether or not he will run. He stole 25 bases in 2005 between AA and and the Marlins. He only stole 3 bases last year, but now that his legs are sound, it would not be surprising at all to see him swipe at least 15 bags this year. His perceived lack of speed and injury history will have him severly undervalued on draft day.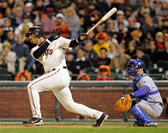 Pedro Feliz- 3B - Philadelphia Phillies
Signing late with the Phillies, Feliz is being overlooked in many leagues. He has hit at least 20 Home Runs in 4 consecutive seasons. He also had 98 RBI's in 2006. He has always been a bit of a drag on your batting average. Now lets take a look at the new team he is playing for. Rollins, Utley, Howard, Victorino and company are a huge upgrade over the teams he had played with on the Giants. Now factor in the fact that he is going from 28th ranked AT&T Park to the Number 1 offensive place to play, Citizens Bank Park, which is an absolute hitters dream. It seems 25+ home runs, 100+ RBI's and a mid .270's average are well within reach. His fantastic defensive skills will keep him on the field nearly everyday. A great signing for the Phils and a nice sleeper for your fantasy team.
See the player updates page for more sleepers and busts.

2008 Fantasty Baseball Bust - National League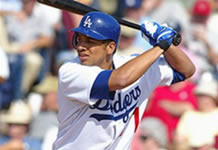 James Loney- 1B - Los Angeles Dodgers
After hitting .331 and 15 HR's in 344 at bats after being called up by the Dodgers last season, everyone is in love with Loney. But let's take a closer look at what can be expected this year. Prior to his call up last year Loney was hitting .279 with 1 HR, thats right 1 HR in 233 at bats at AAA. While he may have a nice future ahead of him, lets not get ahead of ourselves. It's a whole new ball game when you are expected to be the starter from the first day of spring training. The numbers suggest the Loney may have found a few holes last year and his batting average should fall in between .275 and .280 this year. To expect anything more than 20 HR's may be wishful thinking. While .280 and 20 HRs is not terrible, it would be a disappointment for many considering where he is getting ranked these days. First base is loaded with guys who will put up better numbes than Loney, let someone else over pay for him this year.
See the player updates page for more sleepers and busts.